The Morris County Board of Freeholders had the honor of awarding county resolutions this morning to four exceptional county residents, in the fields of teaching, housing and nonprofit giving, who have served as role models in their respective communities.
Congressman Sires, Ranking Member of the Subcommittee on the Western Hemisphere, and Chairman Emeritus Ileana Ros-Lehtinen (FL-27) made the following statement after introducing H.R. 7245, The Venezuela Humanitarian Relief, Reconstruction, and Rule of Law Act of 2018, legislation targeting the disintegration of democracy in Venezuela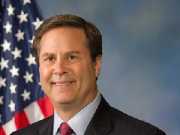 U.S. Congressman Donald Norcross (NJ-01) announced that Robins' Nest, Inc. in Glassboro, New Jersey has been awarded a $2,000,000 grant from the U.S. Department of Health and Human Services (HHS) to develop a new Recovery and Housing Program to provide housing and support services for 300 homeless individuals with substance-use disorders.
The New Jersey Economic Development Authority (NJEDA) today announced that it is now accepting applications for the 21st Century Redevelopment Program, which will provide grant funding to assist communities with developing solutions for repurposing local vacant or underutilized commercial and retail properties
U.S. Representative Bill Pascrell, Jr. (D-NJ-09) announced the awarding of a $1,162,364 Federal Emergency Management Agency grant to New Jersey which will be used to restore Passaic Valley Sewerage Commission (PVSC) property damaged by Hurricane Sandy.
Toms River, New Jersey—Congressman Tom MacArthur released the following statement on the Puerto Rican governor's decision to increase minimum wage for Puerto Rican construction workers and require the use of project labor agreements in governemnt-funded constuction projects
New Jersey's housing market is steady in the second quarter of 2018, with prices on the rise and properties spending fewer on the market, according to NJ Realtors® data. The median sales price of a single-family home in June was $340,000, up 4.6 percent from last year.
Representative Bill Pascrell, Jr. (D-NJ-09) announced that the Department of Housing and Urban Development (HUD) awarded $1,544,606 in Housing Choice Vouchers to the Paterson Housing Authority.  These HUD grants will be used for the relocation of current members of the Riverside Terrace Development in Paterson which is slated for HUD-approved demolition.
The New Jersey Department of Community Affairs (DCA), Sandy Recovery Division is proposing to reallocate Community Development Block Grant Disaster Recovery (CDBG-DR) funds to the Sandy Recovery Housing Counseling Program and Rental Assistance Program in order to meet the continuing needs of highly vulnerable households hit hard by Superstorm Sandy.
In order to afford a modest, two-bedroom apartment at fair market rent (FMR) in New Jersey, renters need to earn $28.17 per hour. This is NJ's 2018 Housing Wage, revealed in a national report released today. The report, Out of Reach: The High Cost of Housing, was jointly released by the National Low Income Housing Coalition (NLIHC)
U.S Representative Bill Pascrell, Jr. (D-NJ-09) and 10 Democratic members of the Ways and Means Committee sent a letter to Internal Revenue Service (IRS) Acting Commissioner David Kautter requesting an explanation for the agency's decision to create restrictions on the prepayment of 2017 property taxes that are not included in the Tax Cuts and Jobs Act of 2017 (TCJA).