WASHINGTON, DC – (RealEstateRama) — U.S. Congressman Donald Norcross (NJ-01) announced that Robins' Nest, Inc. in Glassboro, New Jersey has been awarded a $2,000,000 grant from the U.S. Department of Health and Human Services (HHS) to develop a new Recovery and Housing Program to provide housing and support services for 300 homeless individuals with substance-use disorders. The funding will be provided in annual installments over the next five years.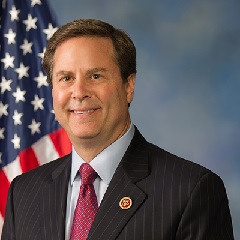 "Every single day, at least one person in my district alone is dying from the disease of addiction, and we need to do everything we can to improve the recovery process and help those who are suffering," said Congressman Donald Norcross, a Vice-Chair of the Bipartisan Task Force to Combat the Heroin Epidemic. "I'm proud to have supported this grant that will help change lives in South Jersey. With the leadership of organizations like Robins' Nest, we will continue to work together to provide affordable housing, combat homelessness and help our neighbors, friends and loved ones who are struggling with addiction."
"We're thrilled to partner with SAMHSA on the development of our Recovery and Housing Program," said Dr. Anthony DiFabio, Robins' Nest Chief Executive Officer. "This is a much-needed care model for those who are not only battling substance abuse, but also the exacerbating life factors which may be inhibiting their recovery journey."
"We've designed the Recovery and Housing Project to support recovery by addressing the many barriers that may exist, including housing, and access to care and supports," said Melissa Fox, Robin's Nest Chief Operating Officer. "The program was envisioned to not only support the individual, but also their family by providing a trauma-informed, therapeutic context using a wraparound service modality."
Robins' Nest, Inc. has been working to meet the immediate needs of South Jersey families for over 50 years. The organization provides more than 80 programs and services that help children, adults, families, veterans, caregivers and the community at large.
HHS' Substance Abuse and Mental Health Services Administration (SAMHSA) focuses on behavioral health efforts and aims to reduce the impact of substance abuse and mental illness in America.
###
Contact: Ally Kehoe, Communications Director
ally.kehoe (at) mail.house (dot) gov