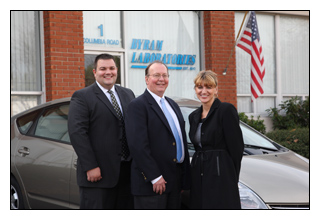 With the New Jersey Economic Development Authority (EDA) assistance, this electric meter manufacturer and wholesaler purchased hybrid vehicles for its sales force to further its green initiative, and refinanced the mortgage on its facility to improve cash flow.
As a manufacturer, wholesaler, and service provider of electric, water, and gas meters, Byram Labs knows all about the importance of energy conservation. That's why the Branchburg-based company decided to implement a green initiative, starting with providing hybrid vehicles for its sales team. With the help of the EDA, Byram Labs obtained financing to make the purchase of these vehicles possible. The EDA worked with a partner bank to guarantee 25 percent of a $93,000 loan for the vehicles.  The EDA's involvement helped lower the bank's credit risk and made access to capital available for Byram Labs."Obtaining the low interest rate from the EDA has enabled Byram to utilize its cash for continued development of a smart meter used for energy conservation," said Monte Prince, president of Byram Labs.
Byram Labs was also interested in improving cash flow by refinancing the mortgage on its facility.  Once again, the EDA worked with the partner bank to support a $775,000 loan with a 25 percent guarantee.
"Working with our bank and the EDA was seamless," added Prince. "How could it be any easier?"