WASHINGTON, D.C. – (RealEstateRama) — Assemblyman Ron Dancer has introduced legislation transforming the state's senior freeze program, providing more immediate tax savings to senior citizens and reducing costs for New Jersey. Currently, eligible senior and disabled residents are reimbursed for a portion of property taxes paid in the previous year. Under Dancer's bill (A4106), most qualifying homeowners will receive a credit directly applied to their tax bills for the current year.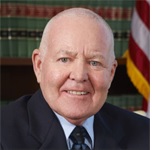 "Right now, the program is inefficient and wasteful," said Dancer (R—Ocean). "With a simple adjustment, senior homeowners can benefit from current tax year savings without paying money they may not have, only to be reimbursed later. This legislation can bring immediate tax relief to seniors with freezing property taxes and applying their credit before the tax bill is mailed."
Seniors and disabled are required to pay their property taxes in full, including increases every year and then wait nearly another year for the state to send them a "reimbursement" each year for the increased amount. In July of this year, qualifying taxpayers began receiving reimbursement for the increased portion of their property taxes paid in full during the quarterly payment dates of August and November of 2014, and February and May 2015.
"It is a waste of taxpayer dollars to have state employees mail checks, and we can save money by utilizing the model that is presently in use for the 'Homestead Property Tax Credit Program,' formerly known as a rebate check program," Dancer noted
Dancer's legislation allows qualified benefits to be credited directly to this year's third- and fourth-quarter tax bill. Eligible homeowners living in retirement facilities or coops who do not pay property taxes directly will continue to receive a rebate payment.